MetroHealth Increases Financial Literacy and Transparency Through A Self-Service Estimator Tool

Location: Cleveland, OH
Number of Beds: 731
HIS System: EPIC
"MetroHealth partnered with PMMC, a revenue cycle company they had worked with in the past, due to their flexibility, autonomy for patients, and a user-friendly platform."
The Challenge
Although hospitals and healthcare systems are required to publicize a list of their standard charges for items and services under the Affordable Care Act as it stands today, the 2015 IPPS Final Rule provides considerable leeway as to how providers can publicize this information. With state-specific price transparency requirements present in all but seven states, there are multiple levels of compliance considerations which revenue cycle leaders need to evaluate to ensure their organization is conducting business appropriately.
To gain further insight on the topic, The Academy featured Donna Graham, Senior Director of Revenue Cycle Operations for the MetroHealth System, during a recent Business Partner Webinar on navigating price transparency.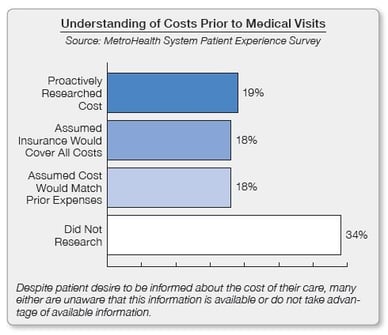 Like other providers, MetroHealth decided to implement more than one initiative aimed at ensuring compliance with price transparency requirements. Because patient preferences vary, the organization provides access to an online self-service tool that automatically generates cost estimates but also allows for more customized, staff prepared estimates by request. Graham explained that, "a lot of our patient focus groups noted that they appreciated more financial communication and us proactively reaching out to them, but they really wanted to be able to be independent and start to learn on their own."
Though the state of Ohio—where MetroHealth is based—has had price transparency requirements in place since 2006, charge data comparisons have not been posted online since 2010. Despite publicly available price data from MetroHealth specifically, a monthly survey of a patient focus group revealed that many patients did not fully understand their financial liabilities prior to care. "Almost 70% were going into their services without understanding what that cost would be to them and what their insurance cost would be," Graham said.
According to the 2015 Census of Health Savings Account – High Deductible Health Plans by America's Health Insurance Plans Center for Policy and Research, Ohio accounts for 5.6% of the national total for patients with high-deductible health plans. In order to further comply with a law passed by the Ohio state legislature, which took effect January 1st of 2017.
MetroHealth partnered with Preferred Medical Marketing Corporation (PMMC), a revenue cycle company they had worked with in the past, due to their flexibility, autonomy for patients, and a user-friendly platform. The tool was made in addition to the ability to request one over the phone or in person from dedicated staff who later send out follow-up letters confirming the estimates. Seeking to further identify its patient's needs, MetroHealth helped to develop a list of most frequently estimated diagnoses and procedures for its web-based tool.
The Solution
When accessing the website, patients see a "My Cost Estimator" button on the landing page that leads to a disclaimer that explains the various factors that can affect the final cost of care and that estimates are not a guarantee of actual charges. Next, the estimator asks patients to select a service category (e.g., vaccines) either through a drop down menu, or by clicking the relevant area of the body on a physical representation.
The patient is then asked to enter their insurance provider and their co-pay and/or co-insurance responsibilities. Check boxes also allow patients to enter in separate professional service benefits, deductible amounts, and any additional out-of-pocket information available.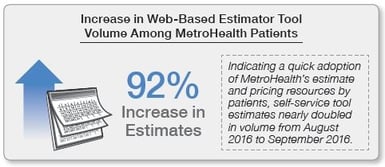 After filling in this information, the patient clicks "Get Estimate" and sees a second disclaimer asking that they acknowledge the estimate is based on information provided and available at the time, and that actual amounts incurred may vary based on their needs at the time of service. The verbiage for this disclaimer was vetted by the organization's legal department, approved by its patient focus group, and is shown in multiple places within the portal to ensure understanding.
After accepting this disclaimer, the patient's printable estimate summary populates with the option to request a more detailed estimate generated by a pre-service center staff member through an online request form. Uninsured patients are directed to contact a pre-service staff member to obtain an estimate, as many factors can affect their final costs (such as income).
Estimates from MetroHealth's self-service tool provide hospital and professional fees separately, including differentiated co-pays to help patients and consumers fully understand the source of their liabilities. When differences occur between claims and estimates, patients are proactively called and informed to ensure patient satisfaction.
The Results
After the launch of the self-service cost estimator in 2016, many more patients began to utilize the website to address questions about the cost of their care. From August to September of 2016, MetroHealth saw their web-based estimate volume increase by 92%. Continuing to reach patients not familiar with or without access to the online estimator, MetroHealth has reinforced its over-the-phone and in-person methods towards increasing financial literacy.
MetroHealth also sends a letter to all Medicare patients with average charges for visits that are frequently provided to Medicare beneficiaries. "It also allows us the opportunity to talk to the Medicare patient to ensure that they may have enrolled in Medicare Part D, of if they've chosen another, secondary insurer," Graham said. "Often times, they don't realize they need to enroll nor that there is a cost associated with that care, so we attempt to facilitate financial coordination in those scenarios."
Furthermore, MetroHealth has an RV that operates 95% of the year to, in addition to providing some medical services, educate patients about financial assistance programs like Medicare, Medicaid, and other local offerings, as well as enroll them on the spot.
Of approximately 4,000 individuals encountered throughout the community, 70% were enrolled into financial assistance and insurance programs.
"This helped us provide preventative care and have a healthier community but it also helped us with reducing expenses because patient security levels were lower going through preventative care and it reduced the emergency visits that we were seeing," Graham explained. "So we were taking care of the community as well as managing our expenses appropriately."
Click here to learn more about hospital patient estimates.