OhioHealth Increases Collections By More Than $6 Million With Patient Estimates

Location: Columbus, OH
Number of Beds: 1700+ Beds
HIS System: Sorian, McKesson Paragon
"We partnered internally with our Central Business Office and the Patient Access folks. It was really a team effort and PMMC was a big part of that as well. They were just very willing to consider our input and partner with us,"-Pam Carlisle, Senior Director, Patient Access.
The Challenge
Increased price transparency can offer healthcare organizations a valuable opportu­nity to both improve the patient experience and increase point of service (POS) collec­tions. Enabling patients to prepare for their financial responsibilities is also viewed as good customer service. In the current era—where consumers are accustomed to having data instantly available—keeping up with patient expectations is particularly impor­tant. Research indicates a significant number of patients now actively seek out medical cost information. Healthcare providers can position themselves to provide top-of-the-line customer service—and increase self-pay collections—by devoting attention to improving the accessibility of pricing data.
To do this, a growing number of hospitals and health systems are turning to technology solutions to help generate timely, accu­rate price estimates for patients.
OhioHealth's patients mirror many of the nationwide trends. There is a given segment with no insurance coverage, and an increasing percentage of patients with substantial out-of-pocket responsibilities after insurance. OhioHealth received a steady stream of requests for out-of-pocket responsibility estimates and wanted to promote POS collections. In order to generate an estimate, Patient Access would look up the procedure in the chargemaster and calculate the average historical charge, not the insurance company's negotiated expected reimbursement or 'allowable'. "We could only give an approximation, we couldn't really tell you based on your insurance plan what your out-of-pocket was," notes Pam Carlisle, OhioHealth's Senior Director of Patient Access.
The Solution
OhioHealth explored multiple solutions for contract modeling and pricing estima­tion, and chose to partner with PMMC to implement its PMMC ESTIMATOR PRO tool. OhioHealth assigned a dedicated project manager to the implementation to provide PMMC with the information needed to derive the calculated charges and the average expected reimbursement of procedures, based on various contracted rates and self-pay policies.
"We partnered internally with our Central Business Office and the Patient Access folks. It was really a team effort and PMMC was a big part of that as well. They were just very willing to consider our input and partner with us," Carlisle says.
One key item was OhioHealth's desire to incorporate its insurance eligibility provider in the process. The estimates had to include relevant patient benefits, such as deductibles, co-insurance, and co-payments, to ensure the estimates were as accurate and up-to-date as possible. PMMC integrated with the eligibility vendor to enable a seamless flow of data into PMMC ESTIMATOR PRO. The combination of accurate payer contractual expected reimbursement and current patient eligibility data created a more accurate estimate of the patient's financial responsibility. The implementation occurred over a six month period to configure the solution and to incorporate all of the project facets.
As the go-live approached, PMMC provided onsite training and education with the core service, there is rarely any issue with the patient responsibility information becoming outdated before the patient arrives onsite.
The Results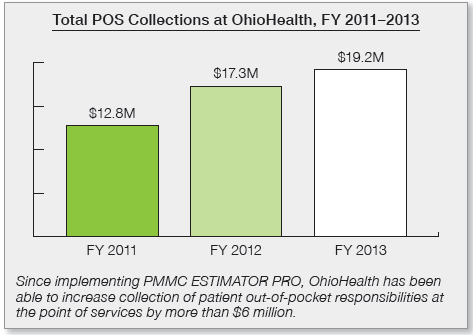 OhioHealth's POS collections have steadily increased with the use of PMMC ESTIMATOR PRO—from close to $12.8 million in fiscal year 2011 to more than $19 million in fiscal year 2013. "ESTIMATOR PRO has definitely been a part of that success," Carlisle notes.
"PMMC is just really good at asking you what you want and working with you to ensure the enhancements are in the next release of the product; they are very much a partner."
In support of that increased level of collection, OhioHealth's Price Quote Hotline gives approximately 470 estimates per month to callers. In addition, OhioHealth provides more than 9,000 esti­mates per month to scheduled patients.
Because OhioHealth has been so invested in using PMMC ESTIMATOR PRO, Carlisle has advice for other leaders who may be exploring a solution. "You have to be really sure that the price estimate tool is visibly pleasing to the eye, because some­times that data can get so overwhelming and hard to follow," she observes.
"PMMC ESTIMATOR PRO produces a crisp, clean snapshot on one page, and it's appealing and easy to use from an end user perspective."
Carlisle also emphasizes that when implementing a solution, pricing updates and technical upgrades need to be carefully synched, and thoroughly tested in a dedicated test environment before they go live. "You never want to jeopardize that live infor­mation with an enhancement, so that's one thing PMMC has in place that's really important for us," she says.
Finally, Carlisle notes that it is essential to continuously evalu­ate the solution to make sure it is being utilized to the full extent possible. OhioHealth's pre-services department includes PMMC ESTIMATOR PRO experts. They continuously monitor enhance­ments to the solution and new ways that OhioHealth can derive maximum benefit from its use.
As patients become more accustomed to requesting information about out-of-pocket responsibility in advance of services being rendered, hospitals and health systems are likely to become increasingly dependent on the ability to provide pricing insight. "We need to give accurate estimates to our patients coming in so that as consumers they can make educated choices about the healthcare they want to have," Carlisle affirms.
Click here to learn more about hospital patient estimates.