Careers
Join the PMMC family and become part of our mission to improve the financial performance of hospitals and health systems nationwide.
PMMC is a leading provider of revenue cycle software and services to healthcare systems. These products aid in all aspects of the revenue cycle management and ultimately help hospitals and physician groups find additional or missing cash, identify billing issues and helps them create an efficient workflow process and strategies that enable them to better serve their community and make sure they are not losing revenue needed to stay competitive.
Over the last 30+ years PMMC has built a best in class reputation and is currently developing the next generation healthcare platform. We are looking for the industry's brightest innovators to be a part of our explosive growth. We grant 33% of that growth to every member of our team so you can personally enjoy the return on PMMC's continued success.
A reflection of PMMC, our client roster includes many of the best healthcare providers in the US. Including Sarasota Memorial, Texas Children's Hospital, Bay Care Health System, Mercy Health, and many more.
Please note:
Applications submitted to PMMC will be in consideration for 30 days.
Current Job Openings
Client Success Manager
Full-time
Contract Analyst
Full-time | Contract Review, Analytics
The contract analyst is responsible for reviewing, researching, interpreting, loading and analyzing private insurance and government contracts for assigned PMMC clients. The contract analyst reports to the Sr. VP - Operations and works in conjunction with other teams and divisions within PMMC. The contract analyst works to ensure the contract loads are accurate and delivered on a timely basis according to pre-defined deadlines.
Software Engineer
Full-time | Information Technology, Engineering
The role of the software engineer is to evolve existing and create new products for the company. The software engineer is a technically proficient and creative individual who communicates well and finds the delivery of software solutions to be a very rewarding experience. An effective software engineer works well with a team and recognizes the value in keeping their skillset and technical knowledge current. Software engineers must remain flexible as needs and opportunities change and always be willing to contribute to the success of the team and the company.
Client Success Manager
Full-time
Client Support Representatives
Full-time
Implementation Analyst
Full-time
Data Analyst
Full-time
Sales Engineer/Solutions Consultant
Full-time
Sales Development Representatives
Full-time
Senior Sales Representative
Full-time
BI Analyst
Full-time
QA Analyst
Full-time
Technical Project Manager
Full-time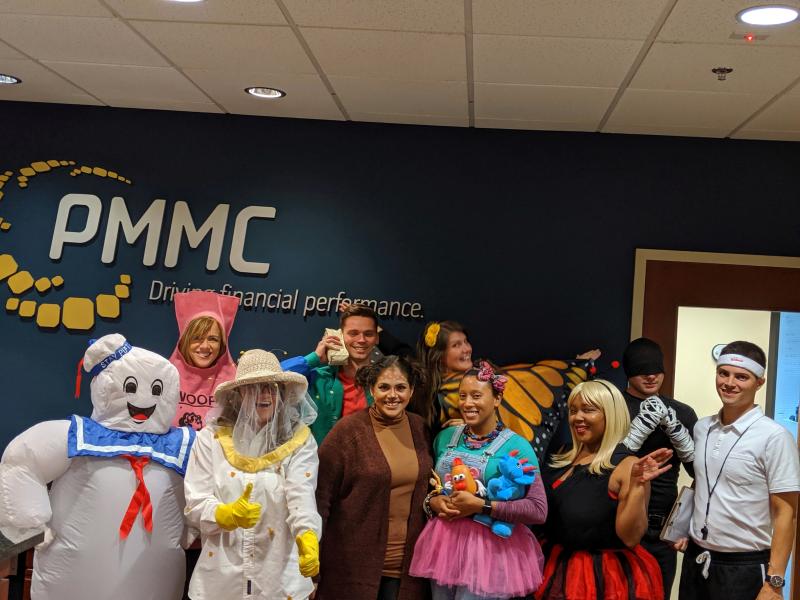 Employee Benefits
The perks of working with PMMC are not limited to the people we work with nor the clients we serve.
PMMC offers a competitive benefits package that ensures the safety and well-being of all it's employees and their families including paid time off, health, vision and dental insurance plans, 401k plan, short term and long term disability, and more.
We also know how to have fun!
From Top Golf to Trivia Night to PMMC holiday parties and contests, our events are not something you will want to miss out on!
Interested in joining the PMMC team?