Rush Health Models All Commercial Payer Contracts and Generates Millions

Chicago, IL
4 Hospitals
700+ Beds
130 Physician Practices
HIS System: EPIC
Mission: To be an integrated network of academic and community providers recognized for high-quality care and unparalleled satisfaction.
The Challenge
Rush Health, located in Chicago, IL, is a clinically integrated network of physicians and hospitals that work together to provide high-quality, efficient health services. Rush Health covers the spectrum of patient care from wellness and prevention to disease and care management.
Their network includes Riverside Medical Center, Rush-Copley Medical Center, Rush Oak Park Hospital, Rush University Medical Center, and over 130 physician practices.
Rush Health's mission is to be an integrated network of academic and community providers recognized for high-quality care and unparalleled satisfaction.
Rush Health has been a long-time client with PMMC since 2001.
"I would describe the relationship between Rush Health and PMMC as more of a partnership," said Linda Chambers, Account Manager at PMMC.
Roy Caldarazzo, Associate VP, Contracting & Provider Services, at Rush Health, has been with Rush Health for 17 years. Rush Health – and specifically Roy's team of Managed Care experts – have made it a priority to make sure they understand the expected reimbursement from all of their commercial payer contracts.
Without the proper software to handle the volume and complexity of these calculations, this part of the Managed Care role would be extremely difficult.
For as long as Roy worked with Rush Health, his team of 5 (including directors and analysts) have relied on contract modeling software to calculate these complex terms.
What They Did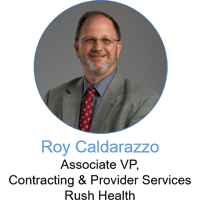 Rush Health was a PMMC client even before Roy arrived, but he took the initiative to leverage the solution to its full capability. Roy originally managed the models himself, but as Rush Health has grown, so has his team. Two additional members of his team have been trained to use the software as well.
With so many commercial payers to manage, Roy and his team need a way to validate that the contracts they agree to align with the organization's revenue expectations. They rely on PMMC's software to validate the expected reimbursement from its payers.
In total, Rush Health models approximately 100 proposals and counter proposals on an annual basis.
Roy Caldarazzo describes PMMC's contract modeling software as "the source of truth."
The Outcome
Roy and his team negotiate every commercial contract by using PMMC's contract modeling software.
Sample Payer Scorecard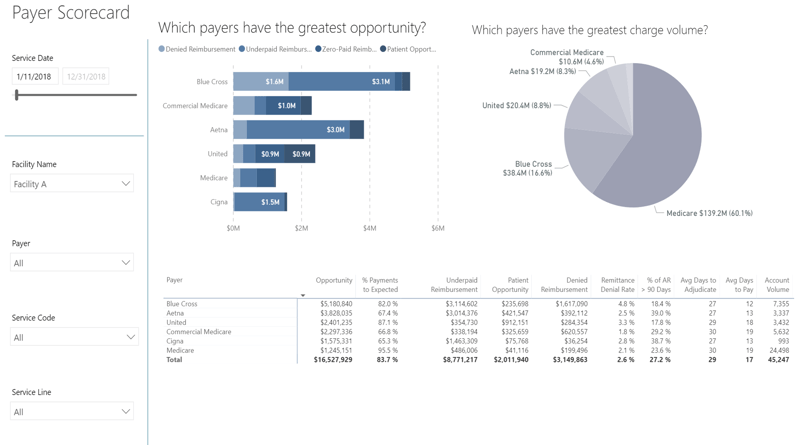 Payer scorecards help healthcare providers understand payer performance and identify opportunities for re-negotiating contract terms
It is difficult to measure the exact number of dollars that Rush Health has saved, but Roy is confident they have "generated millions of dollars in the system."
The speed of the software has also proven to be beneficial. For smaller payers, the models can be completed in a matter of minutes. For larger and more complex payers, the models can be run in less than 30 minutes.
"This has been a great tool for us and we feel very confident in the software," Roy concludes.