Impact of the Price Transparency Executive Order
Reactions and Recommendations
How are Healthcare Providers Reacting to Price Transparency Executive Order?
About half of healthcare providers said that publishing contractual allowable prices is their biggest concern related to the Executive Order on price transparency, while about one in four voiced concern about strategic plans to address the upcoming changes, according to a recent survey from PMMC and Chilman Law Firm.
Nearly half (46%) of healthcare providers said their biggest concern is potentially publishing contractual allowable prices
26% of healthcare providers said their biggest concern is lack of strategic planning for upcoming changes
22% of healthcare providers said their biggest concern is the inability to provide out-of-pockets costs to patients

---
What's the Impact of the Price Transparency Executive Order?
On June 24, the Trump administration issued a groundbreaking Executive Order that would force hospitals and insurers to disclose more pricing information than ever before.
PMMC and Chilman Law Firm recently co-hosted the webinar The Executive Order: The Financial and Legal Impact on Payer Contracts attended by more than 100 healthcare leaders that reviewed the basic principles of the Executive Order along with the potential financial and legal ramifications that healthcare providers should prepare for and questions they should start asking. The webinar also offered some insight into how healthcare leadership perceives the impact of the Executive Order.
Healthcare attendees were polled at the beginning of the webinar: What's your biggest concern about the Executive Order?
May have to publish contractual allowable prices: 51%
Inability to provide out-of-pocket costs to patient: 24%
Currently not strategically planning for upcoming changes: 17%
This won't impact my organization: 8%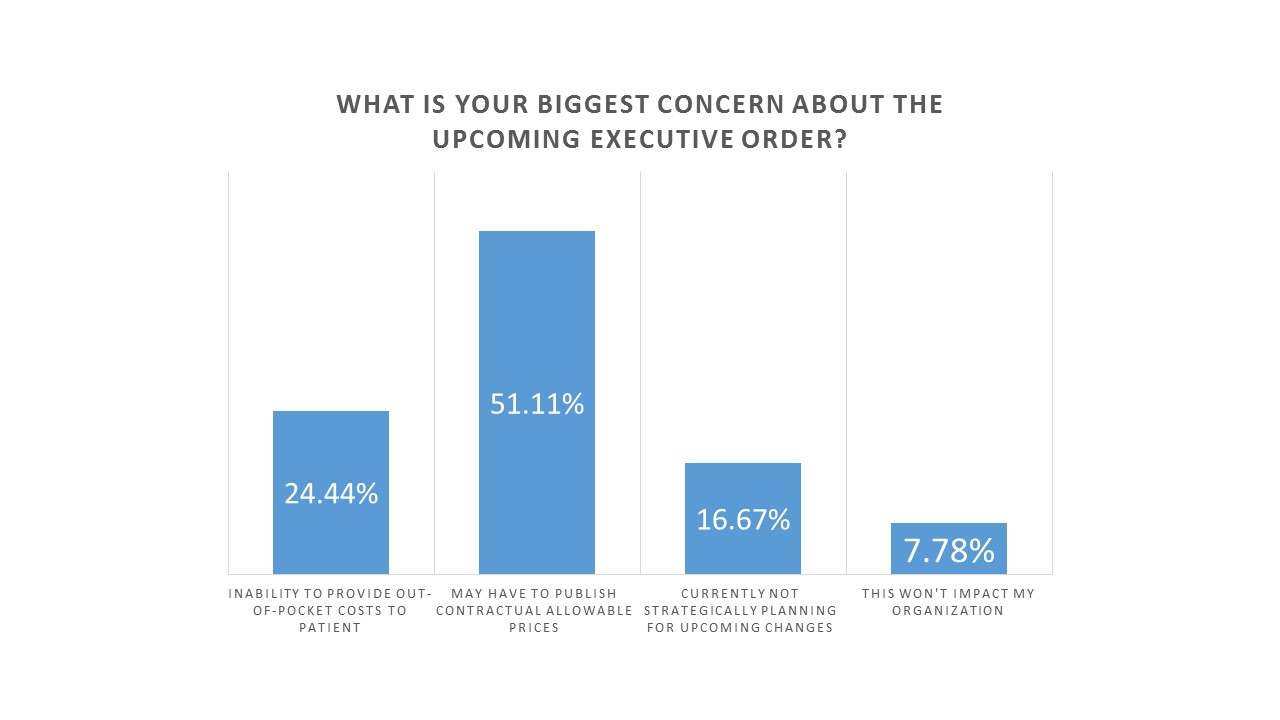 Not surprisingly, the biggest concern is around disclosing negotiated rates with payers. There is a general concern in the industry that this will put healthcare providers at a disadvantage when it comes to negotiating contracts with payers, because the rates they privately negotiate will now be publicly known.
Attendees were asked the same question at the end of the webinar after hearing the presentation. The results were:
May have to publish contractual allowable prices: 46%
Inability to provide out-of-pocket costs to patient: 22%
Currently not strategically planning for upcoming changes: 26%
This won't impact my organization: 5%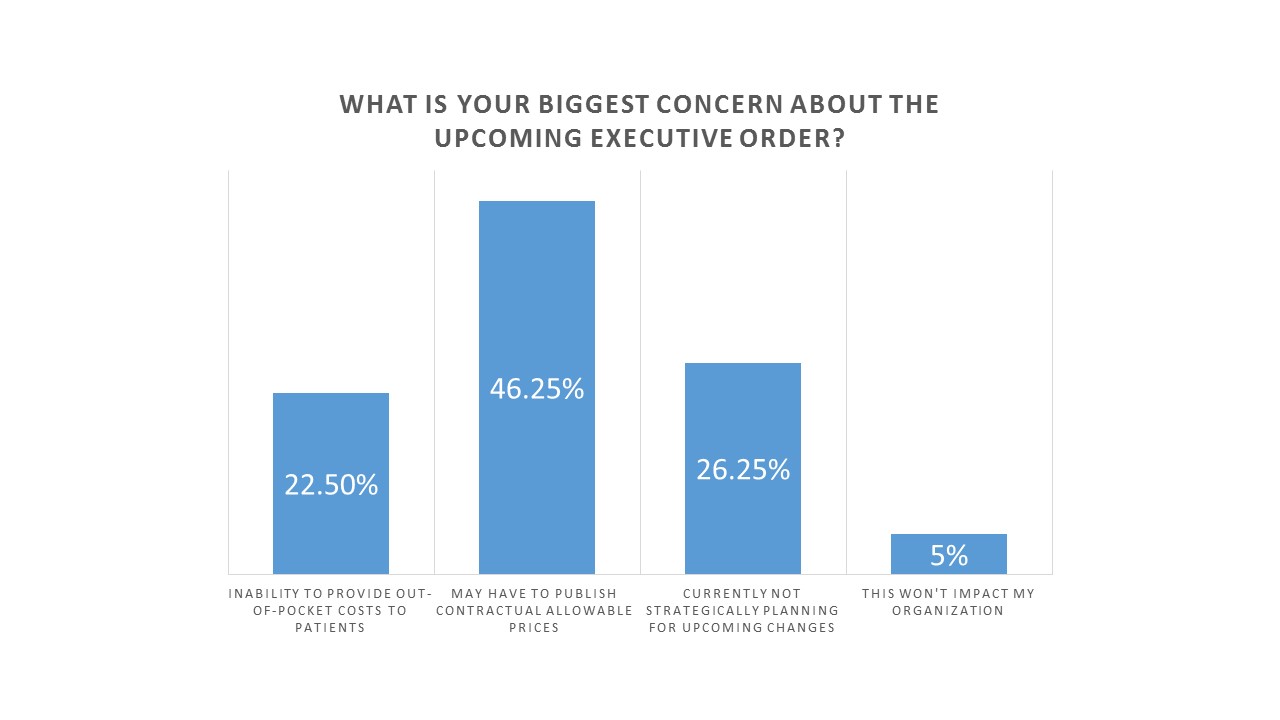 Although the primary concern remained publishing contractual allowable prices, lack of strategic planning for upcoming changes ranked as the second biggest concern, jumping from 15 to 26 percent. This is an indication that more healthcare providers realized this will need to be a strategic initiative after hearing about the potential financial and legal impacts during the webinar session.
The webinar reviewed the three basic goals and potential implications of the Executive Order:
Goal #1: Improving Price and Quality Transparency
The first goal of the Executive Order is to improve price and quality transparency. President Trump has directed key departments including Health and Human Services, Treasury, Labor, Federal Trade Commission and the Attorney General to take steps to improve the transparency of healthcare pricing and quality information; and more importantly to ensure it is easy to access and easy to understand.
"To respond to the first goal, healthcare providers will need to move to a more integrated charge and pricing strategy," said Greg Kay, Senior Vice President at PMMC. "As charge, price, and cost information (not just data) becomes more common, consumers will start to vote with their wallet."
According to PMMC survey data, less than 15% of hospitals have online estimates and an even smaller percentage incorporate real-time eligibility.
Kay believes that CMS and market pressure will drive providers to incorporate this type of technology.
"When a consumer gets an estimate for an anticipated service, it needs to tie back to the provider's negotiated rates, which is the patient's allowable for professional, technical and combined services," explained Kay.
"You have to keep this in mind with your payer negotiations. It's important to know what is being price-shopped and model your charges, your price or allowable with this in mind."
Goal #2: Empowering Patients with Information
The second anticipated outcome of greater transparency is a well-informed consumer. When consumers are armed with the right data, they are more empowered to make purchasing decisions based on cost.
Kay referenced how consumers shop today and compare services and prices for travel, houses, insurance, cars, and electronics. Healthcare is truly one of the only industries where comparative shopping is not readily available.
The ultimate goal is to let the market drive competition.
"As patients become consumers of healthcare versus just recipients of healthcare, our industry will see more disrupters entering the space," predicted Kay.
Goal #3: Increasing Transparency to Lower Costs
"Remember, the end goal of all of this is to lower cost," said Kay.
Kay pointed out how the pharmaceutical industry is as much of a target for increased pricing transparency as providers. As a result, prescription drug prices decreased for the first time in nearly 50 years.
David Chilman pointed out that because there is a greater shift toward patient financial responsibility through high deductible plans, providers need to look at ways to counter the accounts receivable (AR) problem that this is causing.
From a contracting standpoint, payers have been pushing high deductible plans that have dramatically shifted the burden to its members, which has consequently shifted the collection burden to the provider. Chilman believe this needs to be addressed directly within the contracts.
"Consider contract language to minimize bad debt and encourage payers to share this risk. There are numerous ways to address this in the contract," recommended David Chilman, President, Chilman Law Firm.
How Should Healthcare Providers Prepare for the Price Transparency Executive Order?
Kay and Chilman both agree that no matter the specifics of the Executive Order, healthcare providers need to start addressing this new reality today.
Revenue Cycle and Managed Care leadership needs to think strategically and determine their organization's payer contracting strategy. The patient responsibility is becoming a larger component of the revenue cycle and payer contracts must include language to address this shift.
Healthcare leadership needs to start asking the following questions:
Does my current payer contract strategy really reflect the shift that is occurring with consumerism?
How do I connect the coming healthcare shopping experience with my contracting process?
How do I improve our internal communication process and analytics platforms for an integrated retail and discount pricing strategy?
Do we have the right team approach to "score-carding" performance and establishing our negotiation positions?
Do I understand the impact of my existing contract language?
Can I identify the right contract language for the contracts of tomorrow? (i.e. drafting "must have" language and anticipating payer initiatives)
"Healthcare providers not only need to comply with the new upcoming mandates, but need to develop an integrated strategy that aligns charges, prices, and out-of-pocket costs," concluded Kay.
For more information on the Executive Order and how to prepare, watch the webinar replay here.
---
Book Your Strategy Session
To prepare your hospital for the price transparency executive order, schedule your strategy session with PMMC today.