Primary Account Review
A primary account review evaluates and collects on all identified accounts where underpayments and/or denials exist.

Many smaller hospitals lack the claim volume to justify purchasing expensive contract and/or denial management solutions.
Those that do have the volume lack the staff and resources to effectively manage both the underpayment and denial processes, often leaving millions of dollars on the table.
PMMC provides a no-cost (contingency only) contract management/recovery service to help ensure your hospital is pushing as much cash to your bottom line as possible – and we ALWAYS recover lost revenue.
Case Study Results from Primary Account Review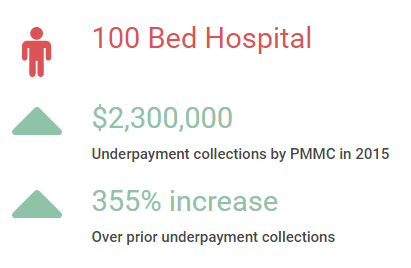 Our recovery process is simple and straight forward:
Findings Phase: PMMC's review leverages our proprietary Contract Management system to quickly understand and audit the complex payer terms and rules.
Collections Phase: Payers are contacted and claims are followed up on until the money is collected and/or the account is closed. 
Reporting Phase: Findings summary is presented with recommendations and areas for improvement.
PMMC collects the money that your hospital is contractually due and then reports the discrepancies so you may take appropriate front-end action such as targeted staff training or discussion with payer representatives to minimize these issues in the future.
Click here to contact us for a primary account underpayment review.